The Dances Are for Us
The Dances Are For Us continues Hadar Ahuvia's examination the pedagogical structures of Israeli folk dance and its critique. While returning to the sounds, images, and mythologies surrounding the Jezreel Valley/ Marj Ibn Amer where her family settled and where the folk dances emerged, the work is grounded in the U.S., where the dances are practiced by folklorists, Zionists, Jews and Christians alike.
The work proposes a way of breaking the cycles of transmission, appropriation, and theft- across vast plains of ideological manifestations and technological advancements- that have present-day consequences for Palestinians, Israelis and Americans.
Working with a group of dancers with various proximities to Zionist and other folk traditions, The Dances are for Us seeks to model accountability to one's own heritage and history.
Premier Danspace Project May 2019
Direction and Choreography by Hadar Ahuvia
Performed by Hadar Ahuvia Oren Barnoy, Raha Behnam, Autumn Leonard, rosza daniel lang/levitsky, Mor Mendel, Jules Skloot, Zavé Martohardjono
Text by Hadar Ahuvia and the collaborators
Project Midwifery rosza daniel lang/levitsky and Jules Skloot
Rehearsal Director Jules Skloot
Dramaturgy Amir Farjoun
Projection Design Gil Sperling
Technical Operator Marlee Weinberg
Lighting Design Carol Mullins
Sound Design Avi A. Amon
Costume Design Zavé Martohardjono
Administrative Assistance Tara Sheena
Project Doula Franny Silverman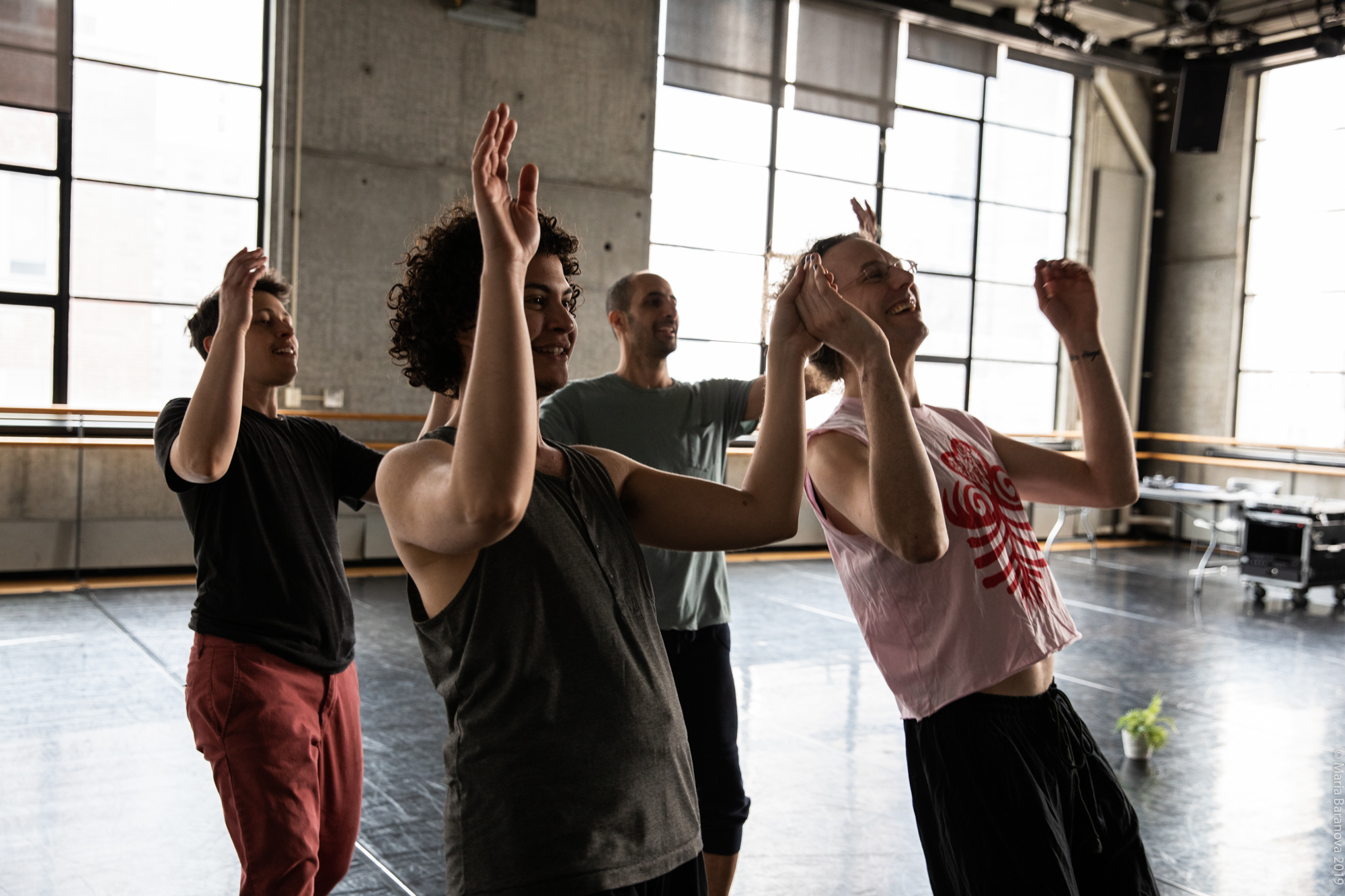 Links and PRESS
Funding Credits
The creation of The Dances Are For Us was made possible, in part, by the Danspace Project 2018-19 Commissioning Initiative,with support from the Jerome Foundation. The Dances Are For Us was developed in part during a residency at the Baryshnikov Arts Center, New York, NY. This work was developed with support from the Process Lab/Performance Residences program at Mana Contemporary.
My work is iterative, you may recognize sections from "Everything you have is yours?" and for its development I am grateful for these supporters: "Everything you have is yours?" was made possible through the Movement Research Artist-in-Residence Program funded, in part, by the Jerome Foundation, by the Davis/Dauray Family Fund, the Andrew W. Mellon Foundation, and by public funds from the New York City Department of Cultural Affairs in partnership with the City Council. It was supported by the GPS/Global Practice Sharing program of Movement Research with funding from the Trust for Mutual Understanding. It was incubated by LABA: A Laboratory for Jewish Culture at the 14th St. Y, a residency at BKSD, and was developed through research conducted and taught at Kolot Chayeinu Children's Learning Program in Brooklyn, NY.